Call Now 619-888-9946
Text Now 619-888-9946
Inside Scoop from a San Diego Brewery Tour Regular
How does the San Diego brewery tour thing work? Here's the scoop:  When you go to a brewery, they usually have 4 oz. tasters and 16 oz. pints. Typically, tasters sell for $2 each and pints are generally $5 to $8. Some breweries have also began to offer 8 – 10 oz. pours.
Drink Tasters, Beware of Pints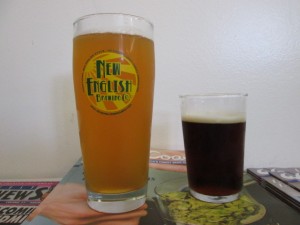 I recommend 4.oz tasters, because the beer is higher in alcohol than Bud or Coors. After just three pints, you might start to fade.  A better idea is to have 4, 4 oz. tasters of different beers, which equals only one pint!  Going straight for the pints is the leading cause of short brewery tours. Pace yourself, and make your brewery tour last.
Brewery Tour Food
Ramp up. Don't forget to have a little something in your stomach when you start your brewery tour. Too much food and you'll be too full to sample great beer; Too little food and you'll fade out early. Many breweries such as Green Flash, have gourmet food trucks that hang around. Consider ending your brewery tour safari at a brewery restaurant such as Karl Strauss.
Again, I don't go straight for the pints. Save your energy and room in your stomach. If you fall in love with a beer, buy a growler.
Take Home a Beer Growler
What is a beer growler? A "growler" is a half gallon or one gallon glass jug, you can buy at any local brewery for as little as $5. The brewery will then fill it with fresh beer for the cost of the beer. Ballast Point will fill a half gallon growler with their gold medal winning Calico Amber Ale for $9. Wow! A brewery tour would not be complete without buying at least one growler fill.
Additionally, with the exception of our Sunday through Friday Special, the chauffeur's tip is not included
in the price of the limo. Normal and customary chauffeur's tip is 20% of cost. Don't let this give you pause. Once customers experience our service, they most happily offer gratuity.
Brewery Tour Policy
Dear Clients of A Plus Limos,
All breweries welcome those interested in experiencing their unique craft beer. Unfortunately, many breweries have instituted a "no brewery tour bus" policy because of excessively loud, obnoxious behavior of a small minority of patrons. Breweries are licensed by the State of California and are expected to maintain high standards or risk losing their license. While relaxing, laughing and carousing with a few tasty craft beers is permitted, public intoxication is prohibited by law. Because of our policy, A Plus Limos is an approved brewery tour provider to many local breweries. Our craft brewery friends welcome the clients of A Plus Limos. It is ok to get relaxed and loose. We'll get you to your destination and home again, safely. We are grateful for your business and future patronage. Brewery Tour Policy – A Plus Limos.
San Diego's Primary Brewery Tour Run: Miramar
San Diego is dotted with breweries and brewpubs all over the county, however there is one primary "brewery tour run" where the breweries are close to each other.   See our latest blog post on AleSmith Brewing Company's secret bourbon barrel aged tasting room.
Breweries Near Miramar Rd.
Ballast Point

Try Intergalactic Brewing
Other Breweries
NEWS FLASH! As of 1/12/2013 the new tasting room on Knoxville St. in Bay Park is now open. The facility is very nice and centrally located. Nice variety of new beers available. But… $5 – $6 for a pint. For my money, Ballast Point Brewery (Home Brew Mart) three blocks away is my brewery tour choice.
This is just a list of local breweries. There are many more local brewpubs. See a map of all breweries and
brewpubs in San Diego. And remember, Party FULL-THROTLE…safely, with A Plus limo services in San Diego.
Session Breweries | Low Alcohol Breweries
Personally, I am very excited about the two new "session" breweries aka low alcohol breweries. Grantville, sometimes known as Mission Gorge or Allied Gardens seems to be the hub of session beer brewing.
Benchmark Brewing

Groundswell Brewing Company
This brewery is still struggling a bit. Super nice folks and decent beer. If you live in the neighborhood then definitely stop by, but this brewery is not worth a special trip.
Off the Beaten Path
Beer Map of San Diego
Check out this beer map of San Diego County.  This map lists all the local brewpubs, breweries, beer bars, beer stores and homebrew supply stores. But before you go out remember to be safe.  By all means, have a good time and don't hold back, but plan ahead.  Designate a driver, call a cab or get a San Diego Limo. Please.
Yes, it's true…beer drinking is a sport.  Do you have what it takes to become a legend?
San Diego Beer Tour Reviews
"We utilize a-plus for our yearly brewery tour and now we're consistently 100% satisfied. The cars are always in fantastic condition & tidy. We've experienced the exact identical driver, Robert, each and every time plus he is obviously the ideal. Good price, good company, no requirement for all of us to check else where, we will continue calling a-plus!" – Tashina
5 out of 5 Stars
"Our driver Patrick was so amazing. He even wrangled a whole lot of our smart phones to take the photo. I can not say how much pleasure we'd!! I recommend going for a brewery tour using A Plus Limos!!!" – Marco</
5 out of 5 Stars
em>