Limousine Service
Call Now 619-888-9946
Text Now 619-888-9946
Why Choose Us?
No outsourcing or middle men. See our Limo Rental Tips.
Your limousine will arrive on time.
Your chauffeur will wear a suit and tie.
Your limo will be clean, luxurious and exceed the industry standard.
Your chauffeur will be well-mannered, attentive and offer the best service in the industry.
Our chauffeurs and limos are fully insured to protect you.
Our chauffeurs are randomly drug tested to protect you.
Visit our location and see your limo prior to rental.
Recent Clients
Junior Cotillion Graduation – January 2020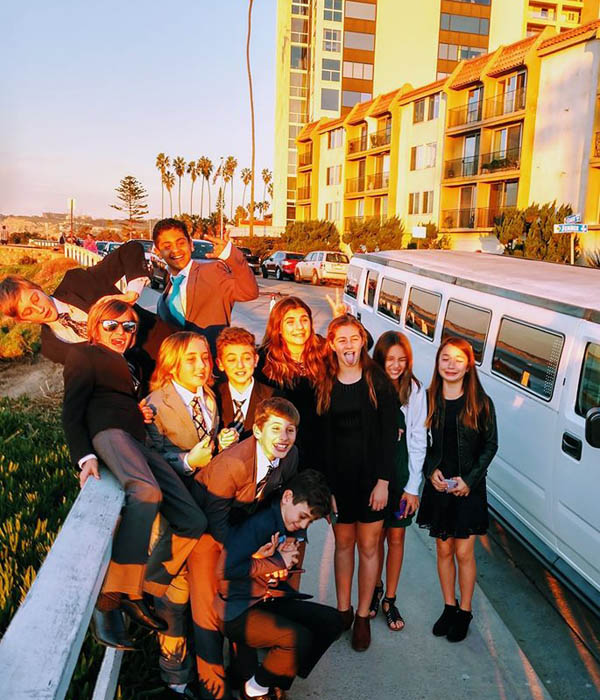 Life's achievements should be rewarded and mile-makers need to be recognized. San Diego Junior Cotillion graduating class of 2020 traveled in style and luxury to Del Mar beach, Studio Diner and finally to De Portola Middle school for their ceremony. See the article, photos and tips for problem free limousine transportation.
Family Traveling to the Holiday Bowl – December 2019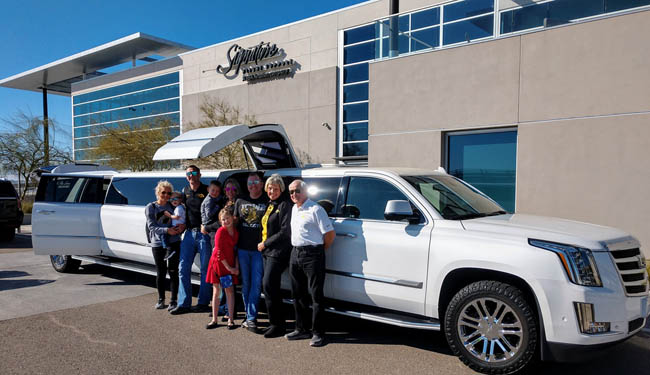 A family flew into town for the Holiday Bowl and A Plus provided the transportation from Signature private jet terminal to SDCCU Stadium (formerly Jack Murphy Stadium). Thank you for using A Plus Limos! We provide service to and from small airports in greater San Diego, but not San Diego International Airport. Read why here.
Jennifer's Quince – December 2019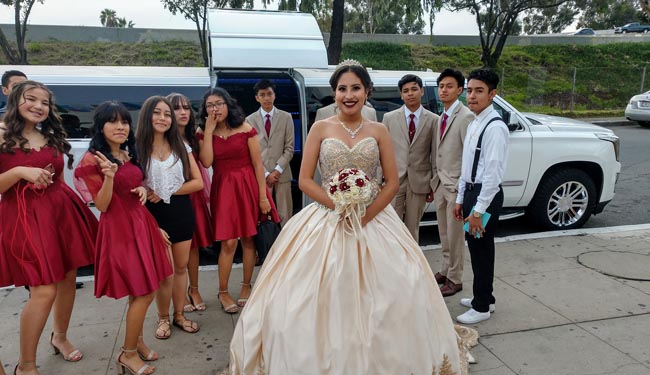 Jennifer and family chose A Plus Limousine for her Quince transportation. This was Jennifer's first limousine rental so the family learned a few tips. See the photos and what they learned on Jennifer's quinceanera page.
Services
Wedding Limo Service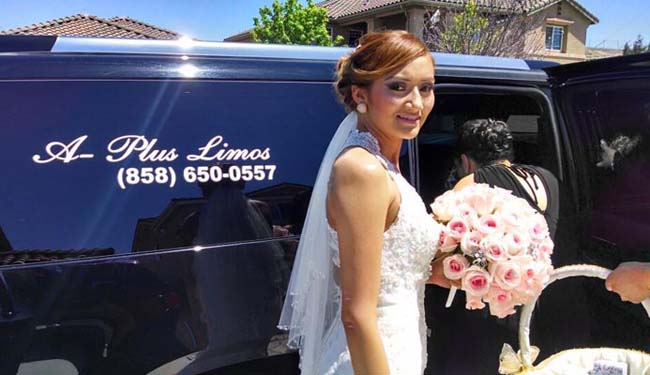 Everyone woman deserves limousine transportation on her wedding day. A Plus Limos has served hundreds of couples on their wedding day. Call for a consultation and be sure to see our wedding limo page.
Quinceanera Limo Service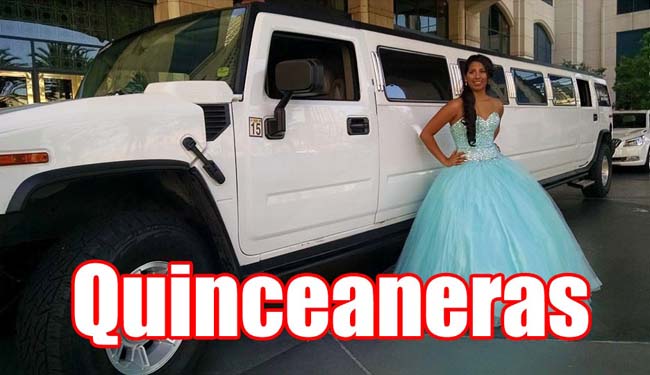 A Quinceanera is celebrated by young Latinas on their 15th birthday. By tradition, she is considered a woman and ready to marry. Today, she is no longer considered eligible for marriage at 15, but still this marks an important turning point in the life of a young Latina. We have helped hundreds of families celebrate quinceaneras in San Diego. You can trust A Plus Limos with your most precious cargo.
Brewery Tours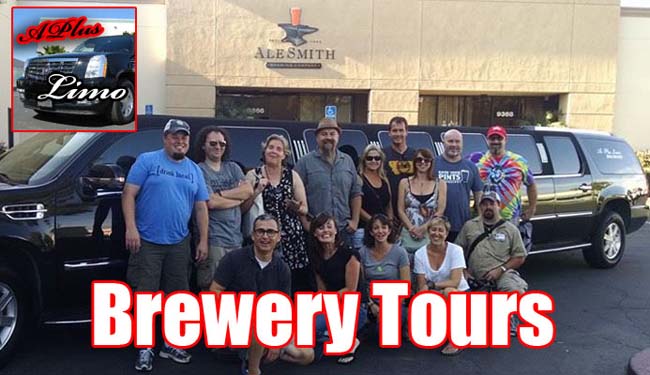 In August 2014 San Diego hosted the annual Craft Beer Blogger's Conference. Over a hundred craft beer connoisseurs descended on San Diego Breweries. When they needed a brewery tour limousine service, they contacted A Plus Limos! We had the pleasure of taking them to Societe Brewing, White Labs, AleSmith, Council Brewing and Benchmark Brewing.
Bachelor Party Limo Service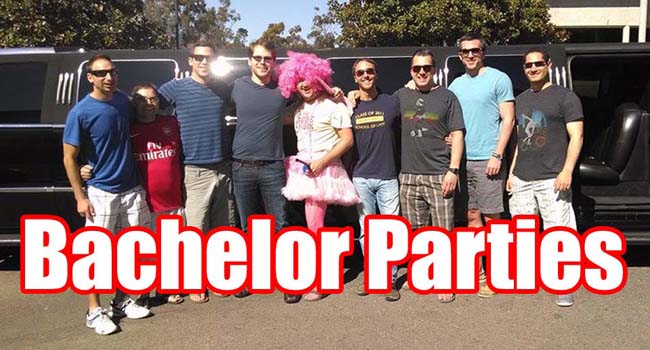 His last blow-out party as a single man requires planning and safe transportation. Party full-throttle safely with your friends at A Plus Limos. We'll get you to the party and back home without the worry of driving.
Our Limousines
White Cadillac Escalade Limo



Big, sleek, and sophisticated the 18 passenger white Escalade is San Diego's newest limo. This fully loaded coach includes a luxurious interior and floor to ceiling light show! See the video on our gull wing limo page.
Hummer Limousine



The Hummer is RUGGED! This tough beauty makes an entrance like no other limousine. See the video of this beast on our Hummer limo webpage.
Lincoln Limousine – White



Our white 8 passenger Lincoln is more reserved than the Escalade or the Hummer. This coach is best suited to weddings or graduations. Photos and details are on our 8 passenger Lincoln limo page.
Lincoln Limousine – Black



Reserved and understated, the black Lincoln does not seek attention but garners attention, nonetheless. Take a closer look at this beautiful coach on our black Lincoln limousine page.
Reviews From Our Happy Customers
"We utilize a-plus for our yearly brewery tour and now we're consistently 100% satisfied. The cars are always in fantastic condition & tidy. We've experienced the exact identical driver, Robert, each and every time plus he is obviously the ideal. Good price, good company, no requirement for all of us to check else where, we will continue calling a-plus!"
– Tashina
"We were able to preview all of the limos prior to booking the service. It was very easy with ramon helping us out and was very professional. We chose the black escalade 18 passenger limo and lived up to our expectations. Thank you again A Plus Limos for making our wedding that much more special. Definitely recommend this company to anyone looking for great deals. "
– Ricky