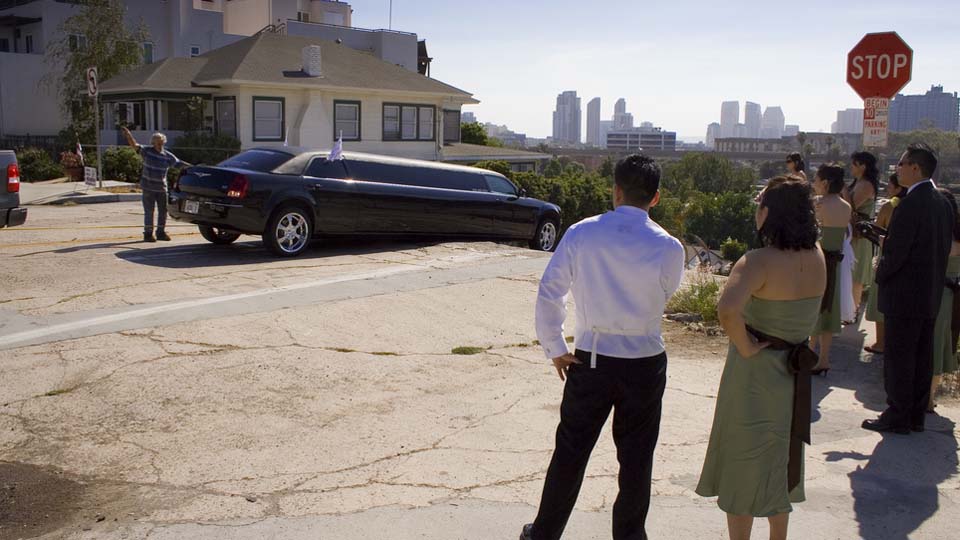 Call 858-650-0557
Text 619-888-9946
Beware of Limo Brokering (Middlemen)
Many so-called limousine companies are not really limo companies at all. They are limousine brokers. Limousine brokers do not have any limos, they only have a website, yellowpages or newspaper ad. They answer the phone and book your limousine order. Next, they begin contacting other San Diego limo companies (that actually own limousines) and try to hire them at a discounted rate keeping the difference as profit. The problem arises when:
the limo company (the one with cars) gets a higher price from someone else for

your

limo on

your

night, or
the broker or limo company over books/double books clients, or
the broker farms out the job to a low quality limo service with old, beat up limos and inexperienced drivers.
The complaints we hear are consistent. Here are a list of the most popular:
They showed up an hour late.
The limo broke down.
The limo was old, dirty, with dents and torn upholstery.
The driver tried to extort money out of us to drive us back home.
The TV, CD player and air-conditioning didn't work on a hot summer day.
The driver didn't know where he was going.
The driver was rude. He was dressed too casual. He was wearing street clothes.
The limo showed up with another party already in our limo.
They wanted a 50% non-refundable deposit.
When I called to complain they hung up on me.
They lied to me.
The driver yelled at me.
The so-called "limo bus" was actually a converted school bus.
Most limousine companies broker when their own limousines are booked. At A Plus San Diego Limo Service, WE NEVER ENGAGE IN BROKERING, PERIOD. Read the horror stories here:
More Yelp
More Yelp
City Search 1
City Search 2
More Yelp
When You Trust The Wrong Limo Company
In our opinion you should avoid limo brokers and limo companies that broker. Your family, friends, company and clients are depending on you to get it right. Look what happened to these customers when they trusted the wrong company:
Does that first photo look familiar? It should. It's B Street in San Diego. Imagine your wedding day being ruined by an inexperienced driver. Inexperienced limo drivers tend to panic when they get stuck and try to "power through it" to un-stick the limousine, but that NEVER works.  They only succeed in wedging the limo in tighter until the drive wheels begin to spin and smoke.  None of these limousines will get out of these situations without the help of a large commercial tow truck.  Furthermore, it would be unwise to put these limos back on the road without a full safety inspection.
Licensing, Bonding, Drug Testing
The State of California licenses all "livery" services in the State. We must prove to the California Public Utilities Commission (PUC) that we are fully bonded, and that our drivers submit to random drug testing. The State of California then issues a TCP License.
The license number (called the TCP) should appear on the website, and must appear on the vehicle that arrives to pick you up. Never book with a limo company that can't promptly show you its license and bond. You can see our licence and bond document here:

Or you can see a copy of our license online here.  Be sure to enter  A PLUS LIMOUSINE SERVICES INC in the Carrier Name / DBA field.
Sometimes the California PUC performs surprise audits at Opening Day of the Del Mar Race Track. A Plus Limos always passes the audit with flying colors! Some limo companies, operating without the proper license and/or bond, have their cars towed way by the State.
Mechanical Maintenance, Cleanliness, Amenities, Appearance
Not all limo companies care for their vehicles like A Plus Limos. We frequently hear stories from customers of other limo services about flat tires, limos that are old, dirty and smelly, with broken TVs, broken radios, no cups, rude drivers, etc. At A Plus Limo, we regularly inspect our limos and attend to every detail to assure your satisfaction. All of our drivers are hand-picked, long-term employees dedicated to your prefect, care-free event.
Limo Rental Tips
When shopping and comparing limo services providers be sure to ask:
Are you a licensed livery in the State of California?
Are you insured?
Are you bonded?

Do you ever broker cars or accept jobs from brokers?

Can you show me the exact limo that I will be renting?
Come See Our Limos!
We are so confident that our limos are the best maintained limos in San Diego, we encourage you to come and inspect our limos before you book the rental. We will show you the exact vehicle offered for your special occasion, so you leave nothing to chance. We have the cleanest, best maintained, best looking, most luxurious limos in San Diego AND we have the most courteous, knowledgeable, professional drivers in the San Diego limo business. Demand to see your limo before you book! Also, see Our Promise to You.